I'm not ashamed to admit that I am a vampire enthusiast. Not now, after I've read so many other Christian authors admitting to loving Twilight. I also admit to watching True Blood (I know, I know...slap my hand) and having read all Charlaine Harris' Southern Vampire Series featuring Sookie Stackhouse.

Recently, I've stumbled across The Vampire Diaries series by L.J. Smith. The CW will be hosting the first season of The Vampire Diaries premiering this Thursday at 7:00 Central Time. This was the main reason I found out about it, so then I did some research.

I found I could read the first book online. I liked it, so I wanted to see if I could find the other 3, and I found a site where you can download all four of the first books (click here. Apparently some people had problems downloading them, but it took me to a site and I managed to download them all. They are .rar files, so make sure you have a program on Windows or Mac to read .rar. There are plenty of free ones. I used iArchiver's 15-day free trial for Mac.). So now I'm starting on Book Three.

If anyone else has read these books, please let me know if it escaped your attention how very similar they are to the Twilight series? Now, I suppose there aren't too many spins on the whole vampire-human love relationship thing. But seriously. L.J. Smith wrote this series in 1991. Stephenie Meyers published Twilight in 2005. Fourteen years later.

Here's my rundown of the similarities between The Vampire Diaries (VD) and Twilight, despite the very obvious similarity in the pictures below, given that I'm only through Book 2.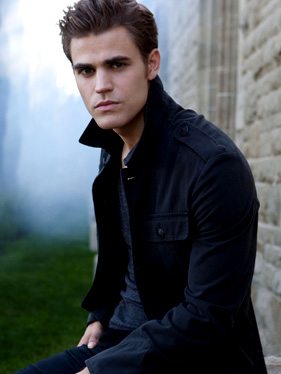 STOP READING IF YOU DON'T WANT SPOILERS.



1) Setting: small town high school, USA

2) Vampire Stefan in VD is a mind reader. He had other Powers, too. He also "feels" the mind of Elena (main girl) differently than the rest of the high school.

3) Stefan is immediately attracted to Elena, but absolutely repels every attempt she makes at friendship (and is quite rude).

4) Stefan rescues Elena from a near rape by a high school boy when she's alone out being stupid with the guy at dark.


5) Stefan doesn't trust himself to ever be alone with Elena after they have their initial first kiss and it's so passionate they both are overwhelmed.

6) There is absolutely no sex mentioned (at least thus far). Just kissing, and not much of that.

7) Stefan's evil vampire brother Damon (sort of like the James character) wants Elena for himself, but not to drain. Damon forms the third of the love triangle (which would be like Jacob from Twilight, although Damon's no werewolf. Damon has incredible Powers b/c he's been feeding on humans all this time.)

8) Stefan is generally a "vegetarian" vamp, like Edward and the Cullens. He hunts animals to quench his thirst, although they don't help advance his Powers much (only the human life essence can really do that).

9) Elena has a "good guy friend" named Matt who absolutely is in love with her and isn't happy at all about the developments between Elena and Stefan.

10) Stefan has a thing about manners and being a gentleman, born from his birth era in the Italian Renaissance.

11) The producers of The Vampire Diaries on CW have definitely cashed in on the Edward Cullen look-alike type thing.

I'm sure there will be more just from reading the back cover copy of the next books, like how Bella eventually joins the vampire ranks, Elena does, too.

There are some typical vampire traits that L.J. Smith works with that most all vamp books incorporate: aversion to sunlight (although Smith has Stefan and Damon wear a ring like a talisman to protect them from the sun), ability to "influence" others with their mental powers, pale and cool skin, incredible physical power and prowess, increased/attuned senses, extreme sexual attraction/good looks, can't go inside a dwelling without an invitation.

So I'm curious what Twilight readers thought of The Vampire Diaries. L.J. Smith has written 3 new VD books now, and I imagine the idea was to cash in on the success vampire books are having right now. But how many Twilight readers have read VD? And who read what first? Any other vamp books you'd recommend to this enthusiast?